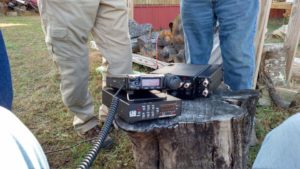 In an impromptu move, the Club laid plans at our October and November meetings to go on another trek. This adventure took us to Barger Springs West Virginia, where two of our members have camps. Another member, Tristan (KE8ENC) also has a camp near this location, but on the mountain.
We made plans to get together and head up on the weekend of November 25 2017, the weekend after Thanksgiving. We loaded up the trucks with ample supplies, including plenty of toys to play with.
Upon arrival, John (WV0CQ) setup his rig and summarily figured out that he liked the 857d in his truck vastly over the Icom in his cabin, so he switched those out.
Over the course of the weekend, we made some contacts, ate some food, watched several movies and generally had a good time. We did a little work as well. We built Roy (KD8VYO) a new di-pole HF antenna and strung it out on the tops of fence posts, tested it and made a few contacts with it over the weekend. After Tristan made the trip down, he took back with him a Kenwood 2m/70cm machine capable of cross-band repeating. Ken, (K8KDC) set it up to work on a pre-arranged pair of channels, one of which was the input to our Bolt machine. We tested it's capabilities, which didn't prove successful in the location Tristan had to place it at his camp. We'll get back to this at another time.
Some pics!

Posted in Mini Expeditions by admin