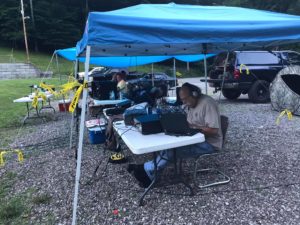 The Coal Country Amateur Radio Club's participation in the ARRL Field Day 2017 was held on the soccer field at Water Ways Parks near Julian West Virginia. We ran as a "4a" station, with 4 radios running from generators and batteries. We want to thank the Boone County Parks and Recreation (Russell Thomas and the gang) along with Pam White and the Boone County Commission for working with us this weekend and allowing CCARC to setup at the Water Way's field for ARRL Field Day 2017. This location was perfect for our use and enabled us to have the most successful Field Day that we've had to date. Much appreciated folks.
Lisa Holstein dropped by from the Boone County Health Department to check out Field Day, as did Delegate Rodney Miller (to whom we still need to recruit as a member
. Amateur Radio enthusiasts work with various government entities to assist in providing emergency radio comms. As a member of our club, Michael Mayhorn, on the staff of Boone County 911, is intimately familiar with our capabilities and how our systems can interact with government systems in the event of a disaster.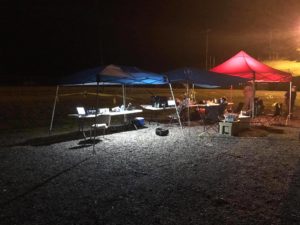 From Canada to Puerto Rico, from Maine to California, over 1000 contacts were made over radio frequencies with other ham radio operators between 2pm on Saturday and 2pm on Sunday. CCARC members were working on Field Day for around 30 hours, preparing and supporting our activities. We maintained 4 radios, multiple antennas and had a great time. Other folks stopped in to see our progress and to have a chat while we were doing our thing…. ARRL Field Day only comes once a year and it's like a carnival for our members. We look forward to this grueling outing each year and we're already making plans for Field Day 2018.
And the results are in! The Coal Country Amateur Radio Club held our own and a lot more this year with a 6th place showing in the WV Section. While we can always do better, and trust me, we will do better next year, we're pleased with our results for this year's ARRL Field Day. We more than doubled the number of points we received last year. We hope to double our points for 2018 as well!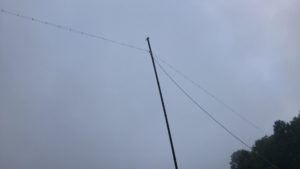 John Holstein,
WV0CQ/CCARC Secretary

Posted in Field Day by admin