Field Day 2014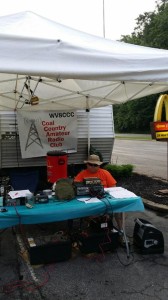 As a recently chartered ARRL Club, we participated in the world-wide ARRL Field Day 2014. This was our first attempt as a club and I believe the first participation by any of our members. Here's a brief run-down on how Field Day 2014 went for us:
Setup began at 2pm on 28 June 2014. We planned to setup within the first 15 minutes or so, which would allow us an extra 3 hours of transmission time during field day hours. This was a valid plan and it worked, up until the last 3 hours remained in field day when just about all other stations dropped off the air. We believe most of the other stations within range (still heavy QRM) had setup prior to 2pm, which because of the rules, meant they had to stop 3 hours earlier than we did. We made 3 contacts after 2pm on Sunday, with nothing of note to be reported as far as strong signals go on the other frequencies. So, we cut lose and headed back home.
We had two radios originally setup to be used. The primary radio which was tested with a vertical antenna was up and running within minutes of arrival at McDonalds in Madison WV. The second radio, a unit not previously tested, was setup. The radio seemed to fire up just fine and would have proven worthy, if we would have had room at McDonalds to setup the Di-Pole. We did not have room for the di-pole in a horizontal configuration, so we elected to try a 10m vertical, which proved unsuccessful due to the antenna experiencing a dead short in the base. We did not immediately tackle repair on said antenna, which as I look back in retrospect, was a mistake.
We continued throughout the first day and into the next morning on the original Radio #1, a ICOM 725. We mainly used 40m as it was the most active.
On day 2, WV8JBH brought his new Yaesu FTdx1400 and we used that for the remainder of the day.
Several emergency service workers made their appearance along with local elected officials and many private citizens. We also had some interest from other local HAMs that are not in the club.
Over 350 contacts were made, of these 321 worked out to be submittable to QRZ and thus, output as ADIF logs for upload to ARRL for our Field Day Report. We had 19 dupes which we threw out and a few that were questionable because of a lack of information provided either by our operator or when looked up on QRZ.
All logs and reports have been filed with ARRL. We shall now wait to see the outcome and how we fared.
2014 Field Day
The results are in and the Coal Country Amateur Radio Club did rather well for their first time out! We placed 11th of 17 in the West Virginia Section. We are extremely happy with our first time participation results!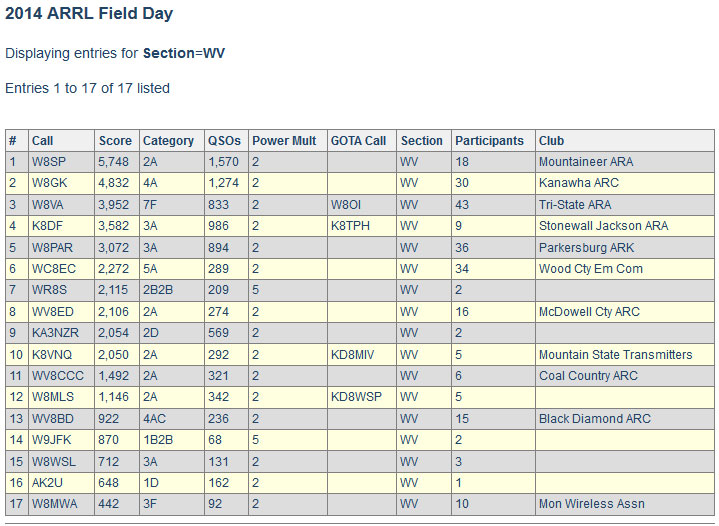 Here's a link to ARRL's Results for the West Virginia Section.

by admin